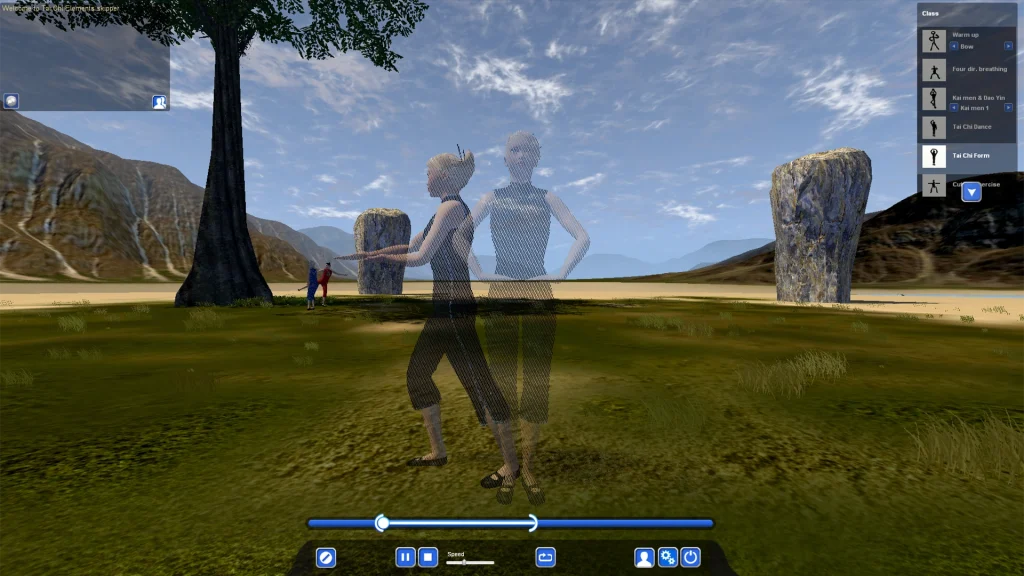 We are developing an app for Android, Windows and Mac users which is designed to help you learn the Tai Chi forms and other exercises. Using motion capture and 3d game engine technology we have created an online Tai Chi class.
The advantage is you can view from different angles, and speed up, or slow down the model. You can zoom in to get more detail, and the player controls allow you to set a certain section to loop so you can practice it over and again. You can meet up with other players, or talk to your teacher online. You can also video yourself with a smartphone or video camera, you could even use a webcam, and upload these videos onto an overlay or screen then watch them side by side with the model to compare them.
We can use these videos to review your progress and look over them with you to give you pointers or look at certain aspects of your training which may need attention just like in a real-world class. As well as the forms there is also the full range of warming-up exercises, breathing exercises, and qigong to learn. You can log in any time of the day or night as often as you like and learn in your own living room and still stay in touch with students and teachers from all over the world.
This app is currently in development, but you can try it out for free as long as you are willing to give us some feedback that will help us improve the user experience.